World COPD Day is organized by the Global Initiative for Chronic Obstructive Lung Disease (GOLD) in collaboration with health care professionals and COPD patient groups throughout the world. Its aim is to raise awareness, share knowledge, and discuss ways to reduce the burden of COPD worldwide.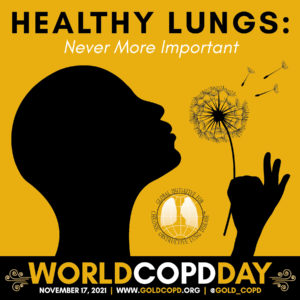 Each year GOLD chooses a theme and coordinates preparation and distribution of World COPD Day materials and resources. World COPD Day activities are organized in each country by health care professionals, educators, and members of the public who want to help make an impact locally and worldwide.
The first World COPD Day was held in 2002. Each year organizers in more than 50 countries have carried out activities, making the day one of the world's most important COPD awareness and education events.
---
The 2021 theme for World COPD Day will be "Healthy Lungs - Never More Important" and takes place on November 17th. This year's aim is to highlight that the burden of COPD remains, in spite of the ongoing global COVID pandemic. Even in light of COVID, COPD remains a leading cause of death worldwide - there is never a more important time to focus on lung health! Keeping your lungs healthy can include avoiding cigarettes, air pollution or occupational exposures, as well as staying active either through regular physical activity or pulmonary rehab. In addition, receiving important vaccines, keeping medical appointments and taking medications correctly can help keep your lungs healthy!
2021 World COPD Day Newsletter
World COPD Healthy Lungs Infographic