World COPD Day is organized by the Global Initiative for Chronic Obstructive Lung Disease (GOLD) in collaboration with health care professionals and COPD patient groups throughout the world. Its aim is to raise awareness, share knowledge, and discuss ways to reduce the burden of COPD worldwide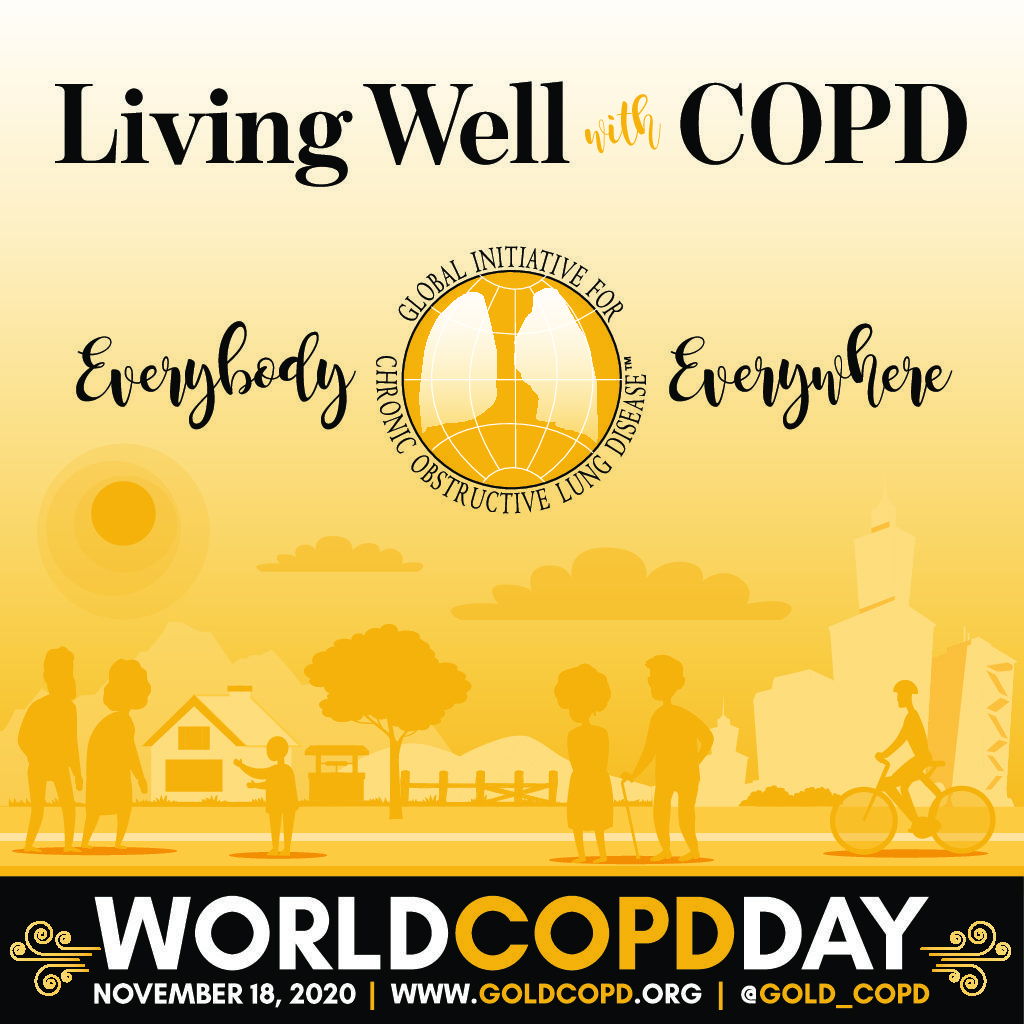 Each year GOLD chooses a theme and coordinates preparation and distribution of World COPD Day materials and resources. World COPD Day activities are organized in each country by health care professionals, educators, and members of the public who want to help make an impact locally and worldwide.
The first World COPD Day was held in 2002. Each year organizers in more than 50 countries have carried out activities, making the day one of the world's most important COPD awareness and education events.
---
The 2020 theme for World COPD Day will be "Living Well with COPD - Everybody, Everywhere". This year's aim is to send a positive message to both patients and providers that although COPD does not have a cure, there are many ways to actively live well. You may download this year's logo files here, or click on one of the resources below for more World COPD Day news.
COPD 2020: changes and challenges editorial
COPD 2020: new directions needed editorial
Thank you for sharing your activities via Twitter (@gold_copd), Facebook (@worldcopdday), or by submitting through the GOLD website. We look forward to seeing how you are living well with COPD in your communities!
Vaccination
Staying healthy and preventing other serious illness can help COPD patients slow disease progression and prevent the burden of exacerbations. It is important to continue to recommend vaccination as part of maintaining health and living well!
To view a free educational course on vaccination, click here
Action Plan
Part of living well is understanding what to do with worsening symptoms. Knowing how to recognize a change in symptoms and having a plan in place helps to reduce exacerbations and time spent in health centers.
To view a free COPD Action plan, click here
Mental Health
Depression and anxiety are common in COPD and can influence mortality and hospitalizations. In addition to mind-body techniques and cognitive therapy, pulmonary rehab may also reduce anxiety and depression.
For a free patient video on how to manage stress and anxiety, click here
Inhaler Use
Inhaler technique can significantly impact treatment response in COPD and is an important part of disease management. Older age, multiple devices, and lack of previous inhaler education are all risk factors for poor inhaler use and adherence.
To view instructional videos on proper inhaler technique, click here
Nutrition
Low BMI and low fat free mass are associated with worse outcomes in COPD. In addition, vitamin D has been shown to impact exacerbations. Maintaining proper nutrition is an important part of improving strength and fatigue, keeping active, and reducing risk of exacerbation!
For a patient education video on nutrition, click here
Pulmonary Rehabilitation
Pulmonary rehabilitation has been shown to be the most effective therapeutic strategy to improve shortness of breath, health status and exercise tolerance and is appropriate for most patients with COPD across all grades of severity.
To view a beginner at home exercise program, click here